Member of the Internet Link Exchange
HOBBY HORSE
Hello! Welcome to Hobby Horse. Hobby Horse is a cyber-horse game, where you can create and manage your own barn. NONE OF THIS IS REAL! Everything here is just made up fun. Want to play? Then just join here! Hobby Horse is a game for people of any sex, any age. As long as you love horses, you are welcome to play.
Hobby Horse needs the following things:
Vet Clinic
Farrier
Tack Store
Feed Store
Horse Misc. Store (clothing, grooming supplies, jewellery, etc.)
Horse Search
Horse Show Association
Many, many, many clubs and associations! Contact me for ideas!
I also need people to take over:
The Marketplace
The Auction House
The Humane Society
Stud Row
Stud Society
Broodmare Alley
If you would like to make any of the above things, email me!
---
Rules and FAQ|Who's who in Hobby Horse|Join Hobby Horse!|Stables
Business

The Marketplace
Ads for horses, jobs, lessons, anything! Wanted ads are here also.
The Auction House
Where you can bid for horses.
Humane Society
Unwanted horses, dogs, and cats for adoption.
Stud Row
Stallions that are for stud can be found here.
Stud Society
Register your stallions for stud here before any breeding takes place. Only registered stallions will be allowed to breed.
Broodmare Alley
Mares that you can breed your stallion to are found here. This time, stud owners pay the mare and the stallion gets the foal.
Clubs, Registries, Societies and Associations
Here is a list of different equestrian sport and breed clubs.
Guestbook
Write in the Guestbook
Make your mark in Hobby Horse and let others know that you were here! For general comments only, not for member talk.
View the Guestbook
Read what others have to say to you!
Fun!
Links
Check out other horse-related links!

---
Awards Hobby Horse has won!
---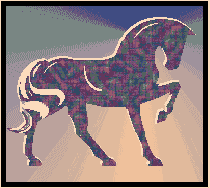 ---
If you have any comments, suggestions, or questions, just email me at hobbyhorse@hotmail.com

---
horse-lovers have visited here since February 7, 1997!